I am almost 40.
This means I am old enough to remember when the American Girl dolls came out. I was in fifth grade and totally enraptured by Samantha. Keeping in mind, the first three dolls (Kristen, Samantha and Molly) were all White. I, ten-year-old girl in St. Louis, was not. It would be 1993 when Addy would be added to the American Girl doll line; with her addition, her story.
I have always played with dolls. My first doll I remember having and taking care of was a female Cabbage Patch doll named Lynn. She was white.
My first Barbie dolls were white.
My godmother got my first Black Barbie when I was in third grade. But throughout my toys in my girlhood, I always had White dolls. There were always more White dolls, and Black dolls were harder to find. If there were ever any.
Seeing Addy as an American Girl, even in reflection, has me sad. I am glad that such representation exists. Yet, my first question is why does she have to be a slave?
Why did the first Black girl to be marketed to other girls–namely Black girls—have to be a slave?
We can debate about history, recognition and visibility. We can have the free versus slave argument. We can even debate using Addy as a teaching tool! But the question still is, "Why did the first Black girl to be marketed to other girls–namely Black girls– have to be a slave?"
The diaspora of Black people does not have its genesis here on colonized shores, nor will it have its zenith here. Having Addy being this controversial is only a further indication of the chasm that is race relations in this country. The thing which I don't think we pay enough attention to is the American Girl company was not founded by a Black woman or a person of color. That unique cultural awareness–that mix of representation, honor and sensitivity–was absent.
Just like with the founders of Mattel. The first Black Barbie was sold in 1968–as Christie. But a BLACK BARBIE was not marketed until 1980! I was born one year later. The first Black Barbie I ever remember being given to me was Peaches and Cream Barbie. She was so pretty–but you have to understand. Black dolls, Black Barbies especially were hard to find! I know this was only 30 years ago, on the heels of all things Black:   from Civil Rights, Voting Rights, literature (Roots and Queen by Alex Haley for example), the Cosby Show. Yet, there seemed not enough Black Barbie dolls in St. Louis for every Black girl that wanted one.
So imagine My delight, when I find out American Girl had this doll.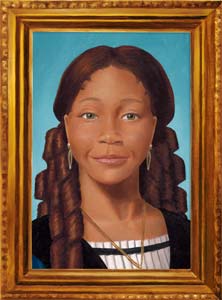 Who is this girl?
Cécile Rey was the eleventh Historical Character of the American Girls, representing 1850s New Orleans. Cécile was released in 2011 along with Marie-Grace Gardner.
In May 2014 American Girl announced that they would archive Cécile's entire collection; she, Marie-Grace Gardner, and their collections were archived prior to the BeForever relaunch. Their books remain available for purchase.
Personality and Facts
Cécile comes from a well-to-do and highly regarded family within the New Orleans community. Cécile wishes to become a stage actress, and shows a talent for storytelling, recitation, and poetry when she volunteers her time at the Holy Trinity Orphanage. Unlike Marie-Grace, Cécile is homeschooled.[5] She finds her lessons to be boring and especially dislikes writing. Cécile takes voice lessons with Marie-Grace, but unlike Marie-Grace, she doesn't feel she's very good at singing. Cécile is very good at keeping secrets, as she kept both Armand's and Marie-Grace's secrets.
Cécile is characterized as being confident, curious, and loving the limelight. She likes to be original. Americangirlpublishing.com describes her as bold. Cécile loves to make others laugh. Cécile is popular and has many friends in contrast with Marie-Grace. Cecile is outgoing and loves parties. One of her dreams was to become a famous actress, and dance at parties every night.
While Cécile can occasionally be outspoken at times, she is also shown to be sensitive and caring, such as teaching Marie-Grace French, spending time with elderly people of color at La Maison, and keeping Armand's desire to become an artist rather than a stonecutter a secret from Papa. Cécile has also shown interest in distant lands, traveling, and adventures as she loves to hear the exciting adventurous tales her Grandpa tells her and is in awe with Marie-Grace's experiences.
Cécile is quite interested in clothes and her appearance, and often tries to avoid getting her clothes dirty. For this reason, she's not too fond of Marie-Grace's dog Argos, who often has muddy paws.
She is always full of clever ideas and can be quite mischievous.
Her nickname, Cécé, is a diminutive of her full first name.
[taken from Americangirl.fandom.com]
See how deep this goes? See how imperative it is for Black children *to see themselves outside of what is reinforced? I understand not every child was born into such privilege as Cecile but not every Black child was born into chattel slavery either! I can appreciate that American Girl tried to make Addy as connected to her African culture (with her earrings and celebration traditions). I can appreciate that they tried to have Addy be an exception of sorts as it relates to chattel slavery. I can appreciate the effort to try and embody everything an entire culture familiar with erasure would need. The problem is, it wasn't enough. There was more that was needed.
The doll did not, does not challenge the Master Narrative. Neither should that responsibility be laid on a toy company, or on the plastic soldiers of a doll. Addy began the conversation, but she has only scratched its surface. Leave to a White-loving world to think a Black girl, even a doll, can fix everything.
*-To date (with Cecile included), American Girl Historical Collection only has 3 Black American Girl dolls, 1 Latina doll, 1 Native American doll and two doll which can be classified as a POC.
[images from American Girl fandom]