Before anything else, I need y'all to understand she is a Black girl. And I will not tolerate any disrespect or denigration to her or her mother, or her father. You will be put off this site. -JBH
I have never understood why the world hated this little girl so much. I mean to the point that the world had something to say even about how her mother styled her hair. I have never, ever understood that.
I, having grown up as an ABG (Awkward Black Girl), I was teased for being smart, tall, too Black, too quiet–everything. And that type of thing is not easily conquered (that God for these 26 letters–they have been salvation more than once). But as it relates to Blue, Shawn and Beyonce's daughter, the world cannot seem to shake the expected aesthetic it wants for this child.
Enter the fetishism of Black women and girls.
As of this month, Blue Ivy Carter is 8. She's eight.  I have stayed away from this internet debacle because I thought is drivel and stupid! The ability for a Black girl to be aesthetically pleasing to the world around her allows her safe passage through it. What does this mean you ask? If so, I am so glad you did.
The world does not like when the monolith it constructs for Black women and girls is challenged. It does not like to be both sientent and flexible. As Dr. Brittney Cooper says in her book Eloquent Rage, "Sass is an acceptable form of rage." The world loves to see us either as model gorgeous like Iman (whom is riding age like nothing known of this world) or like Fannie Lou Hamer. There is no space to differentiate. No space to just be–you are constantly picked at, prodded and told with a smiles on faces exactly what you are not. Or can ever hope to be.
Blue, sadly, is not an exception to this.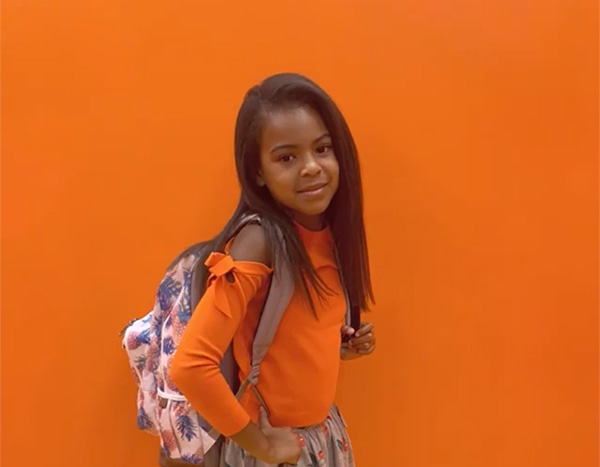 The thing I hope, the thing that grants me such a hope, is the fact her mother and father know exactly who they are–and will not allow her to be anything less than what she is. In a side by side comparison, she looks like her mother–as most daughters do. How dare Blue's genetics not make her a pretty Octoroon or gazelleesque Creole Barbie? How dare Blue's genetics produce a phenotype that look like her father first!
To me, I think that's who she looked like first–and now she looks more like her mother.
From her hair, to how she dressed to how she looked–the world had something to say. Only now, is that beginning to calm down. That calm, quite frankly, is unsettling to me. It's almost like the wolves have gone further down the path, waiting for her to turn 15, 16–that's when the extra lewd, trifling comments will come. On queue.
Ask me how I know.
But the difference between myself, my daughters and Beyonce and hers are exposure, visibility and money. I am of the insistent persuasion that raising a child, whom navigates this world as Black and female, is to have a hypervigilance paired with a empathetic compassion.
You have to both shield, protect all while you equip her to deal with a world that may never accept her as she is–and be okay with that. That is hard. I cannot imagine how had that is when you have cameras, bodyguards and the paparazzi is a daily an occurrence as pouring cereal.
Let Blue be. Just let her be.
Her parents allow her to be seen when they want her to be seen. They understand their role as parent and protector. They also understand (or should understand) that precarious position of being uber-visible in and around Black culture:  everything they do is monitored or scrutinized. Including the kids.  What I love, what grants me hope, is they give and have given her space to be herself. She has space to grow, and do, and be and it is glorious. They are raising her, and radically loving her. These elements will ensure Blue will have a sense of self that is not determined by likes, shares or other articles shared on blogs or other social media platforms.
In 2020, can we resolve to love all Black girls the same way? 
[first image from PageSix.com, second from eonline.com]